Meet Nick - Founder and CEO of Nick's Picks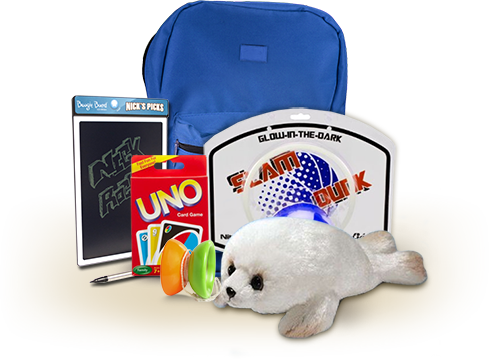 On September 28, 2012 I had my liver transplant. The day I received my new liver, Nick's Picks received its certification as an official 501c3 charity. Nick's Picks provides backpacks with items that I found extremely useful and entertaining when I faced long-term hospital stays.
When my friend had to go to the hospital for cancer, I wanted to give him a package of things I loved in the hospital. That's why I started Nick's Picks.
The super cool backpacks are stuffed full of "must have" items including lacrosse socks (that not only keep you warm, but keep you looking cool in the hospital ward), a yo-yo, basketball hoop, stuffed harp seal, madlibs, a book on animals, and a Boogie Board LCD writer. The stuffed harp seal is one of my favorite items as it symbolizes peace and comfort –something I want other kids to feel. I also love the mini-basketball hoop. It is not surprising how good you can get at this with all of the time you have on your hands! And not a kid doesn't love the Boogie Board LCD e-writer tablet. It can be used to help you communicate when you can't speak and it's a great way to entertain yourself and pass the time. I know what it is like to be stuck in isolation in a hospital room, and I know what a difference these backpacks can make to kids of all ages!
A Little Help?
Please donate to Nick's Picks - Backpacks for kids in the hospital, filled with Nick-approved items!
Donate!